Advantages of mechanically driven
superchargers for engine charging
MECHANICAL CHARGING aims at enhancing the torque of the engine, particularly in the LOW ENGINE SPEED RANGE, in order to substantially IMPROVE THE LUGGING ABILITY. Thus the engine can be operated with higher efficiency at unaltered engine speed, resulting in reduced fuel consumption and lower exhausts. Mechanically charged engines offer environmental protection and substantially increased driving comfort and better overall performance.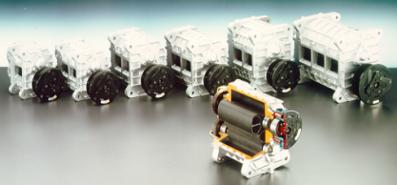 Supercharger-series "TX" at a range of 0.4 to 2.8 liters/rev. for engines up to/over 10 liters of displacement (Diesel or Gasoline).
MECHANICAL SUPERCHARGING SERVES THE PURPOSE OF:
reducing fuel consumption in driving cycle
decreasing pollutant exhaust emissions
improving torque and power
avoiding delays in reaction time (turbine lag)
eliminating the "turbo-hole"
increasing driving comfort for boats and other powered vehicles
The new rotary-piston supercharger-series "TX" was developed by WANKEL in Korb (near Stuttgart / Germany) and has been manufactured in license by OGURA-Clutch Co. in Akabori / Japan since 1991.
ADVANTAGES OF THE SYSTEM:
higher efficiency (exceeding 70%) by minimized gap between rotor and housing and special coating of the rotor surfaces
excellent results in all durability tests
immediate response to acceleration (very low mass inertia)
7 different sizes available; for all engine sizes in vehicles, commercial vehicles, boats and powered machines
lowest possible size and weight due to optimized adaptation
direct driven by pulley or electromagnetic clutch for engagement on desire
supercharger noise level lower than engine noise due to optimized system (patented system)
Application in 2 and 4-stroke engines up to voluminous diesel-engines. Suitable for application as exhaust-gas recirculation fan or as secondary fan in exhaust-gas recovery systems